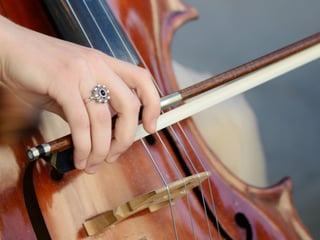 Sheri MacMillan, founder of MacMillan Estate Planning, has a love for Cello. It was because of this that she discovered the musical stylings of internationally acclaimed cellist Deryn Cullen.
Deryn Cullen, and her husband Dan, recently released their debut album – I Am Cello – which was inspired by the pursuit of a life passions. Dan's expressive style of composition combined with Deryn's brilliantly gifted cello playing forged the unique and epic sound that can be heard on I Am Cello.
During a December Episode of The Strongroom, we reached out to Deryn at her home in West Yorkshire, England and she shared some of the highlights of how the album, and the couple, came together.
Dan and Deryn came from two very different musical backgrounds.
Dan's passion is for progressive rock. It was his first love, as a musical genre, and continues to be to this day. From a very young age, he was writing songs and was always fascinated with the production side of music.
"He was incredibly resourceful, from the youngest age, in terms of finding ways to record his music and to add really interesting and creative touches" Deryn shares.
Deryn, on the other hand, came from a very classical and traditional background where the production portion of the process was just handed to somebody else.
When Dan and Deryn (pictured below) first met, they both had an interest in each other's backgrounds but knew less about it than the other.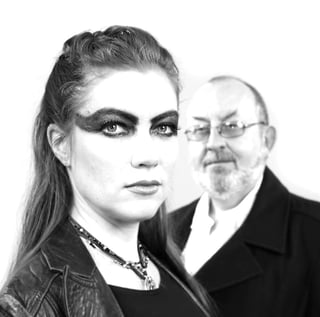 "I knew absolutely nothing about production" Deryn explain. She continued to add, "Dan has certainly always been interested in classical music but obviously didn't know as much about it as I did. So, there was a really good cross-pollination and respect for each other's respective backgrounds, right from the word go."
When it came to writing I Am Cello, there was a lot of collaboration that made this album a reality. The process started with Dan writing tracks and putting together orchestral arrangements.
Because they did not have the budget to work with a live Symphony Orchestra, they used orchestral sample libraries.
Deryn would then take the tracks and spend a bit of time with them, writing out some cello ideas. To make the orchestral arrangements sound more organic and real, Deryn recorded all of the string parts on the cello and then they would be blended in with the samples. In addition, Deryn sometimes added some extra touches to the string arrangement with her cello to give the track a richer texture.
The result was an emotional and riveting sound.
The sound was then accentuated further by the magnificent recording of a live choir.
"[The choir] would never have happened without Sherri McMillan's help, agreeing to preorder [I Am Cello] before we actually released it. Without that, the album probably wouldn't have materialized. Or it would have been done without the choir or with sample choir, which just never sounds the same. It never sounds as good as a real choir, no matter how carefully you do it" explains Deryn.
We couldn't be happier to be working with Deryn and Dan Cullen and hope that you enjoy their music as much as we do.
To find out more about I Am Cello or order the track, visit their site.
Or, listen to The Strongroom episode – A Gift of Music!